(If you're interested in buying some, they will be available at
Capture
very soon!)
This card uses a new stamp set I bought from
My Favorite Things
(MFT). These stamps are GREAT! Very good quality, and cute designs too!
This stamp set is called
"It's a cupcake kind of day!"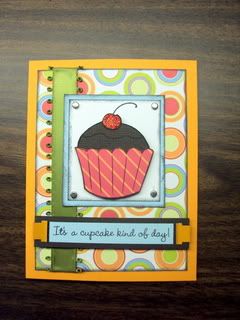 I stamped the cupcake on regular white cardstock and colored it in, then stamped it again on colored cardstock so I could do some paper piecing. I popped the paper pieced cupcake off the page with foam squares.Then I made the cherry sparkly with some Stickles.
This is another stamp set from MFT. It's called
"What's up Cupcake?".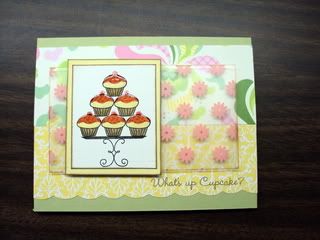 I used Glossy Accents on the 'icing' and popped the floral transparency with foam squares.
These stamps are also from the sets I bought at MFT. The sparkly baubles are called
"Glittered Garnishes"
(from the Summer collection). Too cute! I used liquid glue to adhere them. I also used Glossy Accents on the icing, but you can't tell because I forgot to take the pic
before
I put it in the clear baggie. (D'oh!)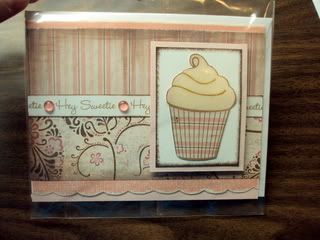 These two birthday cards use a couple of rubber stamps I bought at Jo Ann's for a DOLLAR! (Gotta love the dollar section!)
I used Glossy Accents to make the balloon and the present shine. I colored the images with CTMH's
Watercolor Pencils
and used a
Blending Pen
to smooth it out.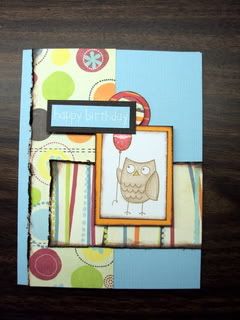 The next cards showcase stamp sets I bought from
Stamping Bella
. These are not clear stamps, they are unmounted rubber.You will need to use either double sided tape or a product called EZ Mount to adhere them to a block. I recommend designating one block to these style stamps, so you don't ruin your other blocks. You can read all about it
here
.
This stamp is called
"Prezzibella"
. I used both Glossy Accents and Stickles on the present. I colored the image with watercolor pencils and blended it with the blending pen.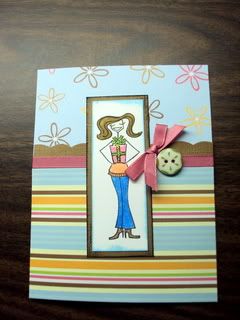 This stamp is called
"Spabella"
. I colored the image with watercolor pencils and the blending pen. I also used Glossy Accents on her glass. (I was going to use Fun Flock on her slippers, but I only have it in white. I need to buy more colors! How cute would FUZZY slippers be?!?)
Thanks for looking! :)