Anybody who knows me, knows I LOVE to rave about new products I've found that I LOVE. (Seriously, my family has told me I sound like a commercial sometimes.)
So why not do it in my blog?
While browsing around on Etsy one day last week, I came across a cute shop called
The Morbid The Merrier
. I wasn't really looking for new bath & perfume products, but the unique photos caught my eye (as did the shop title.)
I found
this
wonderful perfume!
Dessert Absinthe Perfume Oil. (actually, this one is a solid...kind of like a lip balm, but not greasy at all. And it comes in the cutest little tin!)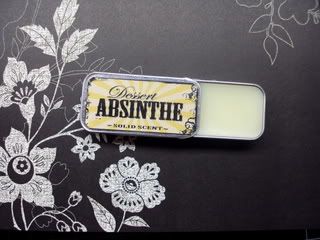 I HAD to have some, so I bought it, and a few days later it arrived in the mail.
It smells SO good. It's very light & citrus-y, with a little hint of licorice (yum!)
Actually, the shop owner can describe it better:
"This perfume oil is absinthe..... with a twist.

I took my usual absinthe perfume oil and softened it with cream and sugar and soft citrus. Upon opening, the first notes are lemon, sugar, and anise - very reminiscent of a lemon sugar cookie. After wearing it for just a few minutes, however, the bottom notes emerge... woodsy, earthy, mysterious, and alluring. I created this perfume for those who prefer something softer and more feminine than traditional absinthe."
I can't decide if I should wear it or eat it! ;-)
I can't wait to try the sugar scrub and lip balm next!