This month's challenge is an "Inspiration" challenge!
June is a popular month for weddings, and in honor of that, I found a great wedding cake pic to inspire you!
I absolutely ADORE this cake!
Anyone who knows me knows I LOVE black and white color combos. And I love scalloped edges as well. And the small dots incorporated into the scalloped edge and borders. And the beautiful flowers!! (I could go on!)
So as soon as I saw this pic I knew I had to use it as a fun inspiration challenge!
Here is my creation: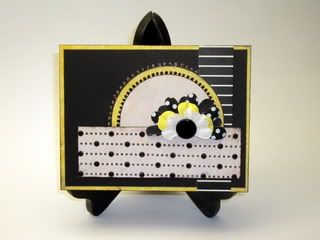 I used a
background stamp from CTMH
to mimic the polka dots on the cake. I also used Stickles in Black Diamond and Tiara to highlight the circle, kind of like the dotted icing does on the scalloped edges.
I also added a large flower, and kept the colors simple, just like the pic of the cake.
So, hopefully you'll get inspired by the pic I've chosen and come up with something fun too, be it a card, a layout, or any other paper crafting creation!
Want to see what you're playing for?
This month, I'm giving away a set of Prima Pebbles!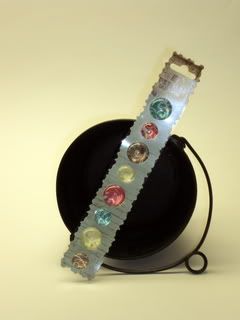 These little self-adhesive "pebbles" are perfect in the center of flowers and make great accent pieces all by themselves! There are many different styles to choose from, available at
Capture
.
This set has a swirl pattern in fun summer colors, perfect for any occasion! :)
To participate in the challenge, just make a paper crafted (or digital) creation based on the inspiration pic above, and upload the URL to your pic to the Mr. Linky widget below:
NOTE: Starting this month, I'm making things easier for everyone by incorporating the challenge to the Crafty Kitty Facebook page!
Now there are TWO ways to upload your pics! You can use the Mr. Linky widget, or simply upload your pic on Facebook to my Fan Page to be submitted for the challenge! To post your photo(s) on the Facebook fan page, just visit my page Crafty Kitty and upload your pic directly from your computer on my wall.
Be sure to include your name and the date, and a link to your blog if you have one!!
This challenge contest ends Sunday, June 27th at Midnight!
Thanks for playing!
:-)