This is a card I made for our babysitter, Amy for graduation. She recently moved away (she's joining the Peace Corp, and right now, she's touring Europe. How cool is that?!?) So, sadly for us, it was also somewhat of a "goodbye" card. :(
For the circles, I used stamps from
Technique Tuesday
and
Basic Grey
. The sentiment and stamped flower are from
My Favorite Things
(now retired).
The white flower is cut from felt and tissue paper on my Cuttlebug. (Man I love that thing! I'm making felt hair barrettes and embellishments next!)
The ruffle is just a crinkled strip of paper glued down with Terrifically Tacky Red Line Tape (available at
Capture
) and covered at the top with some black ribbon.
Now on to the challenge winner......
Congratulations to Buffie (i.e.
Crafty Guam Girl
) for winning the May Challenge! She gets a custom made cell phone/camera cozy! Check out her cute card: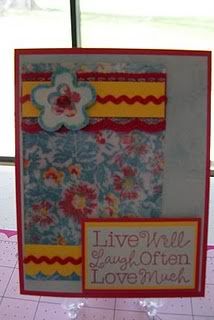 Stay tuned for the newest challenge! I'm changing things up a bit and (hopefully) making it easier for more people to participate. More details to come!
;-)