So, for the last year or so, I've had my eye on this SUPER cute storage container at
Capture
. I finally decided I needed it. I wasn't sure what I was going to use it for at first, but then I remembered that my teensy
mini tote
was literally BURSTING with fun embellishments (like rhinestones, buttons and small acetate flowers and swirls) So I bought it to relieve my mini tote (lol). :)
The top opens up to reveal a pretty deep open storage compartment, perfect for all my sticky buttons and "bling".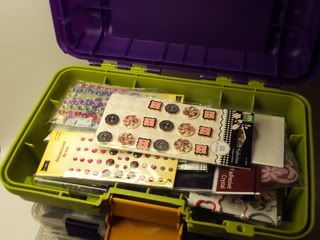 The 4 "drawers" are separate containers that pull out, perfect for my collection of brads!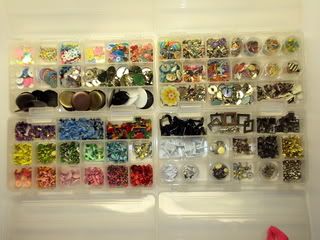 (and yes, I organized them all by color & style. I had to. It's my OCD. Everything I use...in the crafting world anyway...has to be colorized. :) Clockwise from the top, its: jumbo brads and loose buttons & baubles, specialty brads, including sparkle,
rhinestone, flower shaped and fabric, neutral and metallic brads, and solid color brads.)
Needless to say, this is my FAVORITE new toy! Want one of your own? There's one left at
Capture
, so hurry in today!
Next up: my Stickles container.
You might think one could manage with a somewhat small container for these wonderful and versatile little tubes of glitter glue.
Well, you'd be wrong.
Seeing as how I own oh, about FORTY bottles of Stickles (what? That's not normal??) I needed a large container.
AND, I wanted to be able to store them upside down so they didn't get those annoying air bubbles that threaten to ruin your lovely projects.
So I bought this hugemongous monstrosity, known as my "color box". (I call it that b/c it's so big, I put all of my markers,
Smooch Spritz
sprays (available at
Capture
!), colored flock and mini viles of glitter in there, as well as all my Stickles. So basically everything I need to color my world. :-) Well, everything except the dozens of ink pads I have, but that's another post, lol.)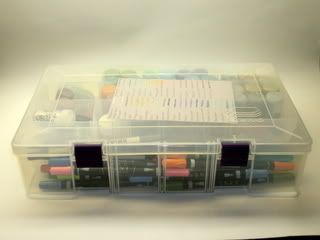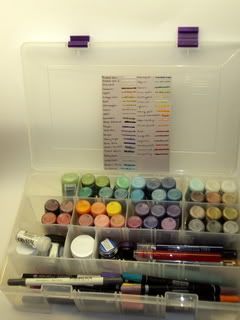 What is that funny looking list in there you say? Welp, my OCD is so bad, I had to make a list of my Stickle colors and an example of what they looked like dry. So I made one. Call me crazy, but anyone who scrapbooks with me always uses my handy little list so...... :P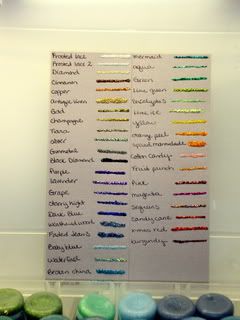 This wonderful storage container is also available at
Capture
, along with a variety of different size containers.
After I had organized all of my glitters and sprays and whatnot, I felt the need to create. So I made some more paper flowers, including a new style I found over at
Little Birdie Secrets
!
The first two are paper roses (find the tutorial for these
here
). I used white paper heavily inked in red for the first one, and then stamped the 2nd one and sprayed it with white Smooch Spritz to give it a pearly shimmer. I also added a rhinestone to the center of the 2nd rose. They look better in real life than they do in these pics, but...what can ya do?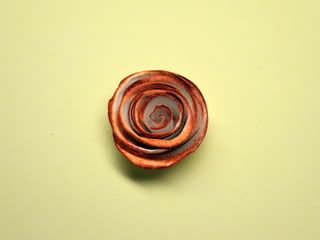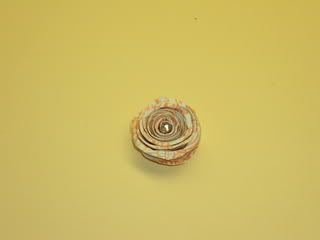 Next, I made some
Box Top Flowers
from Little Birdie Secrets. I didn't have a way to make a scalloped circle at the time, so I just made them with plain circles, but I liked the way they came out. I also sprayed one of them with my red Smooch Spritz. (Man that stuff is fun!)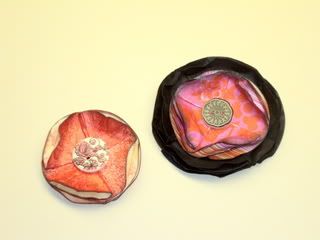 That's all for now. I hope you try making the flowers too! They're addictive!;-)
Thanks for looking!