Are you ready for the new May Challenge?!
It's fun and simple. :-)
It's a sketch! :)
I haven't had time to create a card based on this sketch yet, but it's from the Mojo Monday blog, and there are a TON of great projects posted there using this sketch!
Check it out
for some inspiration!
You aren't limited to creating a card either! This sketch would be cute on a layout too! Feel free to think outside the box! ;-)
Want to know what you're playing for?
This month, the winner will receive either a free camera/cell phone cozy OR a free coffee sleeve! You choose which item and what colors you'd like! (Pick any color of the rainbow...I pretty much have them all! You're not limited to the colors shown here. ;-)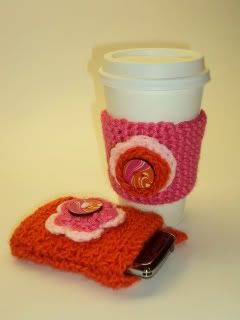 So, upload your pics to the Mr. Linky widget here:
This contest will end Monday, May 31st, so make sure you get your pics entered by then!
Not sure how to share your pics for the contest? If you don't have a blog of your own, you can upload your pics to almost any photo hosting website (like Flickr or Photobucket or Shutterfly) These sites will create a URL for your photo. Once you have the URL, copy and paste it into the Mr. Linky and you're done!
(If uploading from your blog, make aure you ulpoad the URL to the POST which contains your pic, not the URL to your blog in general.)
If you need further assistance, please email me or send me a message on Facebook. :)
Congratulations to last month's winner, Jenny Petrillo! She made an absolutely adorable card using
three
different types of "shine"! :-) Check it out! (I think my fav. part is the clear acetate flower!) :
Thanks for playing, and happy crafting!
;-)