This was a project I made for my mom's 50th birthday, but you could adapt it to any age or occasion. (Maybe a Valentine project for your sweetie based on the number of months/years you've been together? Or an anniversary gift? Or as a Countdown to Christmas? The possibilities are endless!)
First, I made 50 tiny "cards" measuring 2" x 4". I wanted them to be small enough to put on a couple scrapbook pages, but you could change the dimensions based on your own project.
Once I folded them in half, I decorated the front with random scraps of paper and cute little embellishments. Flowers, buttons, brads, rhinestones, charms...... you could stamp them, add glitter, doodle on them, add a rub-on, distress them..... these are just a few of the things you can do to dress these up. (I recommend using either Zots glue dots or a good liquid glue to hold the non-paper items to your cards)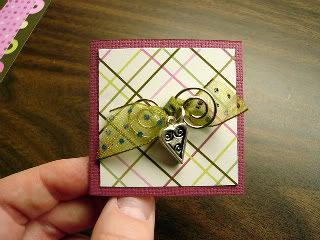 On the inside, I wrote a little note describing 50 different things I love about my mom (one for each card).
Once all 50 were done, I placed them in an envelope that I decorated to match. (Any size envelope would work as long as it holds all your little cards.)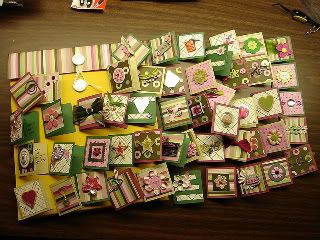 Another variation would be to put them in a decorated box (lots of craft stores sell Chinese take-out boxes in different sizes, or you could get a plain square box and dress it up.....or a decorated tin...or a paint can....lots of things would work!)
I'd love to see everyone's variation on this project if you decide to do one yourself!
:)