So, after scrapbooking for almost seven years, I FINALLY got the Crop-N-Style XXL Rolling Tote! Yippee!!
I WAS using
this
rolling tool box from Wal-Mart. It worked really well, but didn't hold my albums or paper, so I had to have a second, smaller rolling tote. What I REALLY wanted was ONE thing to carry all of my scrap crap in, lol. (I hate making multiple trips to the car during a crop! I need all the time I can get to CREATE! Not carry luggage!) :)
So this is what I have now and I LOVE it!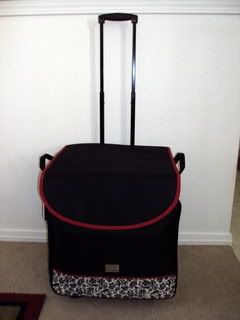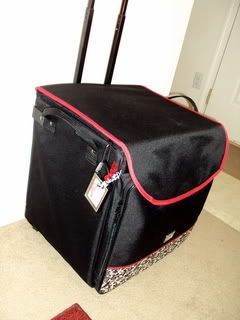 Look at all it holds!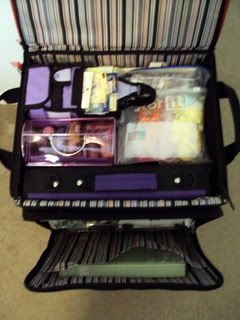 Take the container of Stickles, the bag of paper flowers and the mini tote of bling out to reveal the second layer of scrapbook-y goodness:
It even has a front zippered pocket to hold MORE stuff!
Yes, those are old cardboard jewelry boxes from Kohl's. They contain buttons and some large rhinestones. :)
(The green binder holds layout sketches, mostly from
PageMaps.com
, but also from various magazines.)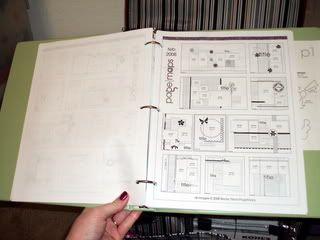 I even made a cute little luggage tag for it with my business card on the back (in case I ever loose it, lol!)
And that's not all! I also bought a Tote-Ally Cool Tote for all my tools! (You can buy one for yourself at
Capture
!)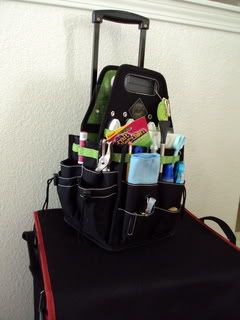 The only sad thing was that I couldn't for the life of me find a spinner thingy to go on the bottom. I HAVE to have it spin around or I'll drive myself crazy at crops. Soooooo.....I bought a 9" lazy susan from
LazySusans.com
and decorated the side of it to match both my tool tote AND my rolling tote! (Yes, I am that big of a dork!)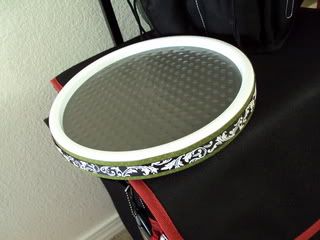 Here it is "in action":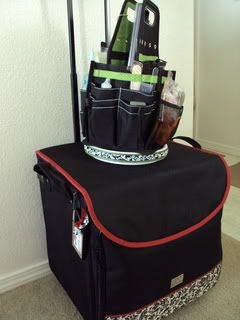 And the great part about it is that it fits right down in the largest part of my tool tote!
I LOVE organization!!!
Now I'm all ready to "scrap in style" this Saturday at Capture's
all day crop!