I finally completed the layout I started at the last crop I went to! Unfortunately you can barely make out the details in these pics. :(
Here is the layout: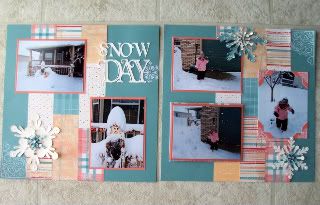 Side note: These pics were taken days before HALLOWEEN! (Hence the scarecrow covered in snow). Crazy weather huh? And 2 days later it was all melted away. That's Colorado for ya! ;)
This pic is SUPPOSED to show the "snow" on the top of the title. I mixed Close To My Heart's (CTMH) Prisma Glitter with some Fun Flock and sprinkled it over the glue I put down on the tops of the letters. It looks WAY better in person.
The white rub-ons are also from CTMH.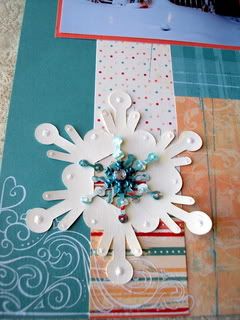 I 'painted' some Glossy Accents on all of the snowflakes but you can't tell in these pics. I also added Stickles in "Diamond" to the edges, and put a silver rhinestone in the middle.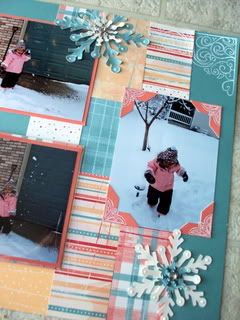 Now, this is the cool part: I wanted to include a pic of Caroline after she came inside. She was SO cold outside (we only stayed out there for about 5 minutes) but she still wanted to play in the snow. So we brought some snow inside and put it in the bathroom sink. :) That kept her busy and quiet for about 30 minutes! Woo-Hoo!
Anyway, the pic I took didn't really fit with my layout, so I hid it under another pic by placing the top pic in a clear bag with adhesive on the strip! You can find a similar item called Flip Flaps at CTMH.(Place the clear flap on the outside of the page protector, instead of directly on your layout, so people can flip it up as they look through your album.)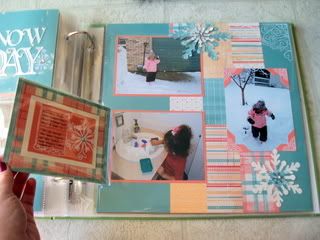 Close up of the journaling:
"Caroline loved the snow! She had a blast but didn't last.:) So we moved the snow inside so she could keep playing and stay warm!"