This is a shower I did for my friend last October. She was having a girl and doing the nursery in Care Bears with pink & brown as the color scheme. I knew I wanted to make a diaper cake,and wasn't sure what to put as the 'topper'...until I saw a bunch of giant lollie pops and knew it would be PERFECT! And so the "Sugar and Spice" theme was born.
This is the diaper cake (You can fine eleventy million video tutorials for one on YouTube, but it's basically rolling up each diaper and securing it with a rubber band, then arranging each layer in a circle and securing THAT with a giant rubber band, and then decorating it with ribbon.)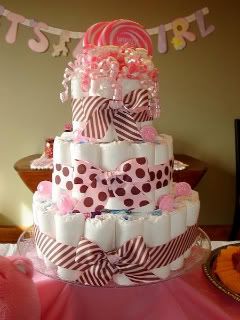 I tucked little goodies inside the cake (Diaper rash ointment, soap, shampoo, gas drops, etc.)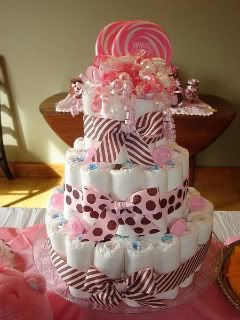 The buffet: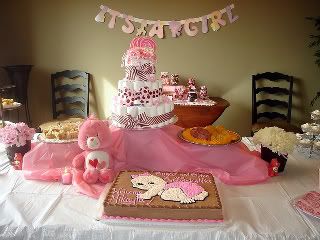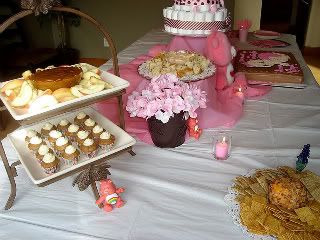 What's a baby shower (or any party for that matter) without a candy buffet?! Plus it fit into the theme so well!
The jars came from a local thrift store and sat on a super soft baby blanket that the mother-to-be took home as an extra gift.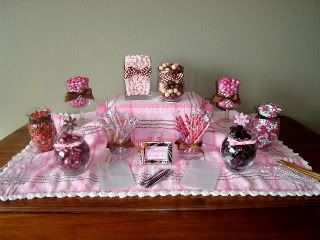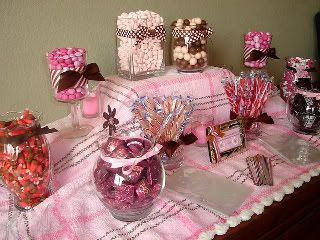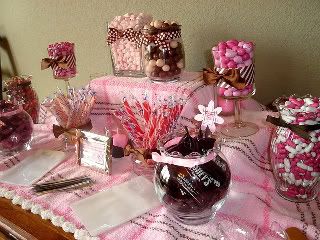 A cute little saying inside a decorated frame... "Sugar and Spice and everything nice, that's what little girls are made of! Enjoy!":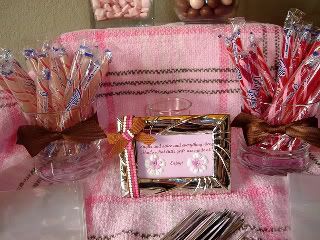 I also made a decorated tin and matching papers, and had each guest write some words of wisdom about parenting for the guest of honor. It's sitting on a nursing cover (another gift to take home!)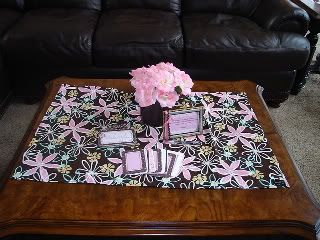 Some more decorations/gifts (onsies, baby legwarmers and custom made burp cloths):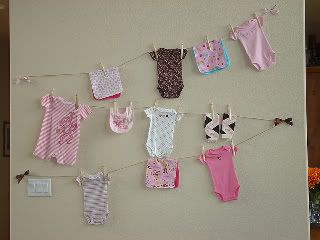 These were the door prizes (and the mini clothespins) for the games we played: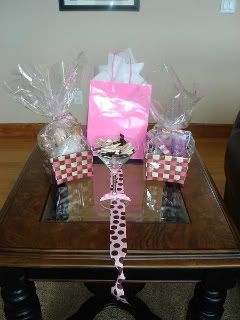 In case you were wondering what the "spice" part of the theme was, we served spiced apple cider, pumpkin muffins w/cream cheese icing, mini spiced pumpkin cheesecakes, and a jalapeno & cheddar dip! ;-) Some of the candy in the candy buffet was also 'spice' themed: clove and cinnamon! Yum!