This week it's a double whammy! Not only is this example of mine a challenge for all of MY followers, but it's an entry in the
Moxie Fab World's "Fun With Floss" challenge
!
This week, my challenge to you is to create a St. Patrick's Day themed card or layout. Simple, no?
But to add to it, I decided to make it a card using embroidery floss as well so I could participate in the Moxie Fab Challenge (my first online challenge entry ever!)
So here is my entry/weekly challenge example:
I used THREE different stamp sets (that I will show you in the tutorial to follow) and hand stitched the four leaf clover and stem: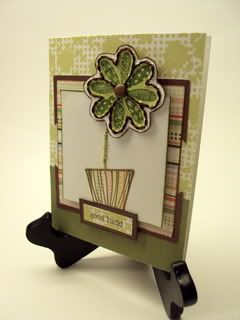 A couple close-up views:
That's it! Just upload your St. Patrick's Day themed card or layout (with or without floss) by Feb. 28th for your chance to win a set of hand crocheted flowers using the Mr. Linky below. (For full contest rules, click
here
.)
Now for my tutorial:
First off, this Moxie Fab challenge is right up my alley because I've been using embroidery floss for a while making my little flowers for
Capture
, and I just recently learned how to crochet some little
iopd/cell phone cozies
. So I am ALL about the stitching & floss and all that great stuff right now.
I didn't actually have the right sized shamrock or 4 leaf clover, so I needed to improvise. I searched through my stash of flower stamps hoping SOMETHING would look shamrock-esque and I found one!
I stamped this flower image (a stamp set I bought at Jo Ann's a long time ago for a dollar) and added the shamrock-y border by hand with a fine tip marker:
Then I used a paper piercer to punch holes in it: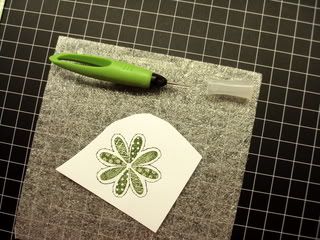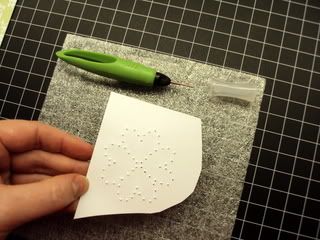 I stitched in some brown embroidery floss with a big needle to complete the "shamrock" look (is it a shamrock or just a 4 leaf clover? What's the difference? Do shamrocks just have the 3 leaves? I don't know. Anyway....:
I colored it in with a colored pencil & a blending pen (both from
Close To My Heart
. Also pictured is the ink pad I used: New England Ivy):
Then I cut it out and inked the edges:
This pic shows the flower pot and "stem" I stamped, paper pieced and stitched. (I was originally going to pop the flower pot up with foam squares, hence the green coloring, but I changed my mind after putting the card together.):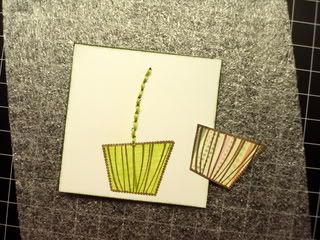 These are the stamp sets I used: So Sweet Seasons, (now retired)
With Love
, and the nameless one I bought at Jo Ann's dollar section. ;-)
So that's pretty much how I did it. The patterned paper came from Me & My Big Ideas. If you have any questions about it, just ask!
Thanks for looking and be sure to post your entry by Feb. 28th to be eligible to win the crocheted flowers! (and if you use floss in your entry, be sure to participate in the Moxie Fab challenge as well!)
Click here to enter your work and to see links to the other entries: