Ok, so lately I've been crocheting like crazy (mostly little flowers) but I've wanted to branch out a little. I'm not gonna lie, I have NO clue how to read a crochet pattern. My mom taught me one pattern YEARS ago and only recently (thanks to a video tutorial from
Little Birdie Secrets
) have I learned more patterns.
So, after browsing the blog a little more and feeling a bit brave, I decided to try and tackle
this ipod/cell phone cozy
(scroll down a little. It's after the towel holder.) Only problem was I still didn't know how to read a crochet pattern.
So, after doing a little Googling and watching a little YouTube, I figured out the basics and was able to sort of tackle this pattern.
Now, being as lazy as I am, and also not having the right size yarn on hand, I changed the pattern a little bit. Instead of doing a bunch of crossed HDC (crossed half double crochets ) I did alternating rows of half double crochets and regular double crochets.
I also added a little loop thingy to it. I felt it needed one. :)
And seeing as how every other row was a double crochet, I didn't need to make a button hole b/c if you know anything about crocheting, you know a row of dc would let you have enough room to slip a button through. :)
So anyway, here it is! It's certainly not perfect. There is room for improvement. But hey, it's my first one ever! (and only the 4th crochet pattern I've ever attempted!) Not too shabby, IMO.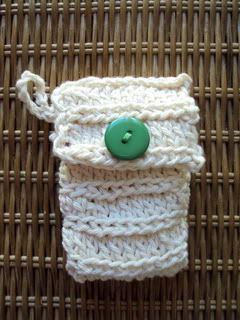 With my cell phone tucked inside: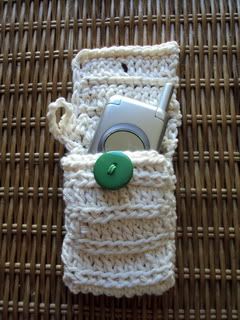 Closed & hanging from the loop:
I switched and put my camera in it, but I couldn't take a pic of that b/c you can't exactly take a pic of your own camera when you are currently using it, lol.
What do you think? :-D
I'm going to make more in different colors. I might list them on
my Etsy shop
if I can make them look "professional" enough. ;-)
Thanks for looking!