Welcome to Crafty Kitty's very first Weekly Contest!
This week's challenge is a sketch from
Mojo Monday
. The rules are simple: use this sketch as inspiration for making your own original card (or small page layout)and then post a pic of it here using the link below.
You don't have to have a blog to participate. You can upload your pic to any photo hosting website (like
Flickr
or
Photobucket
) and then copy & paste the URL for it here.
Since there is a MONTHLY winner instead of a weekly winner, you have until the end of February to participate, however, next Monday a new challenge will be posted. You may participate in as many weekly challenges as you like, but I do ask that you only post ONE entry per challenge.
One winner will be chosen each month out of all the challenges for that month (so February is going to be a short one, lol!)
The winner will be announced in the first challenge posted the following month, so be on the lookout!
Ok, let's get started!
This week's challenge sketch: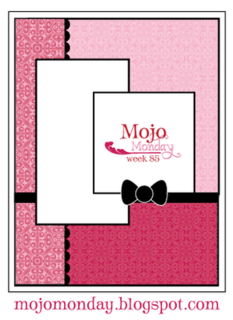 You can find the original Mojo Monday post
here
for more inspiration, but here is my take on it:
The papers are a retired set from Close To My Heart, and the stamped images, ribbon and
Glittered Garnishes
(the sparkly round things in the corners) are from
My Favorite Things
.
Want to know what you're playing for?
This month's winner will receive a pack of four hand crocheted (by me, TYVM ;) flowers with brads! (The brads are removable, in case you have your own that would match your project better than these do.)
So, get to craftin' and post your pic using the Mr. Linky below, and thanks for playing! :)
Click here to post your work and see the links to the other entries for this challenge: